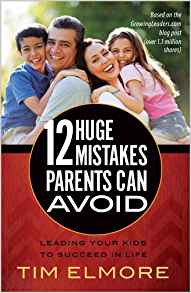 PARENTING WORKSHOP
Based on the book "12 Huge Mistakes Parents Can Avoid: Leading Your Kids to Succeed in Life"
by Tim Elmore, Ph. D.
facilitated by Carol Timmons, LMFT
---
"You are not raising kids, you are raising future adults."
You're deeply committed to helping your kids succeed, and you're doing your best to raise responsible children but you wonder if you are giving them the most important things…
In this Workshop we will discuss practical and effective parenting skills to help avoid 12 critical mistakes parents unintentionally make so you can avoid common traps, such as…
MAKING HAPPINESS A GOAL INSTEAD OF A BY-PRODUCT
NOT LETTING KIDS STRUGGLE FOR WHAT THEY BELIEVE OR SUFFER CONSEQUENCES
MERELY PROTECTING THEM INSTEAD OF PREPARING THEM FOR
LIFE LYING ABOUT KIDS' POTENTIAL – AND NOT EXPLORING THEIR TRUE POTENTIAL
GIVING THEM WHAT THEY SHOULD EARN
Dr. Tim Elmore, prolific author and popular speaker, provides public schools, universities, and corporations with resources that foster the growth of young leaders. (www.GrowingLeaders.com)
This Workshop will be an 8-week Session appropriate for parents of children of any age – but primarily ages 6-18.
Group Details
Date & Time:
Cost: $150/ 8 Sessions (book available on Amazon)
Place: 2900 Bristol Bldg. J-206 Costa Mesa, 92626 (my office)
Feel FREE to call me with a question or for more information at (714) 751-3370.
---
Click here to register for this group: