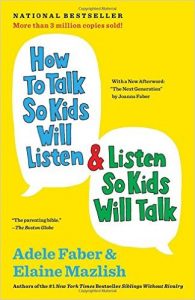 PARENTING WORKSHOP
Based on the book "How To Talk So Kids Will Listen and Listen So Kids Will Talk…" by Adele Faber and Elaine Mazlish
facilitated by Carol Timmons, LMFT
---
QUICK…HELP FOR MOMS with KIDS 2-12!
This 7-week session is designed to help Moms to have peaceful fun-filled times with your family. The goal of the How To Talk So Kids Will Listen Workshop is to give you practical effective methods of communication that will help make your family time less stressful and more rewarding for everyone!
You will learn to:
Discipline without hurting or alienating
Cope with your child's negative feelings
Engage willing cooperation
Help children develop a realistic and positive self-image
Foster an atmosphere of love and respect
Resolve conflicts peacefully
Group Details
Groups are limited to 10 or less.
Date & Time:
Cost: $140/ 7 Sessions (book available on Amazon)
Place: 2900 Bristol Bldg. J-206 Costa Mesa, 92626 (my office)
Feel FREE to call me with a question or for more information at (714) 751-3370.
---
Click here to register for this group: