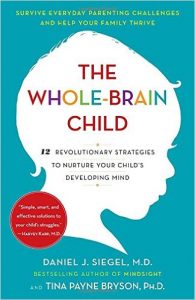 PARENTING WORKSHOP
Based on the book "The Whole-Brain Child: 12 Revolutionary Strategies to Nurture Your Child's Developing Mind" by Dan Siegel, M.D., and Tina Payne Bryson, Ph.D.
facilitated by Carol Timmons, LMFT
---
This exciting new book explains how parents can handle tantrums, meltdowns, aggression – and most of the other challenging experiences of parenting – by understanding how the brain is wired!
Parents can actually rewire their children's brains by how they respond to their children! In easy to understand language, Dr. Siegel lays out 12 concepts that could change your family life forever!
"Fears? Fights? Frustrations? Help is here! Daniel Siegel and Tina Bryson turn leading brain science into simple, smart, effective solutions to your child's struggles."

– Harvey Karp, M.D., author of The Happiest Child on the block/
"The Whole Brain Child is choc-full of strategies for raising happy resilient children. Most of all (it) …"teaches kids about how their brain actually works, giving even very young children the self-understanding that can lead them to make good choices and ultimately to lead meaningful and joyful lives."

– Christine Carter, Ph. D., author of Raising Happiness
This brilliant method offers:
Ways to transform everyday interactions into valuable brain-shaping moments
A scientific focus regarding how parenting impacts brain development
Age-appropriate illustrations to help explain these concepts to your child
The best recipe for change is interacting with other parents and encouraging each other to put these ideas into practice!
This will be a fun and interesting workshop for parents with children of any age but most appropriate for parents of kids 2-12.
Group Details
Date & Time:
Cost: $150/ 8 Sessions and 1 optional private 30-minute session
(Book not included in the price of the workshop: available on Amazon)
Place: 2900 Bristol Bldg. J-206 Costa Mesa, 92626 (my office)
Feel FREE to call me with a question or for more information at (714) 751-3370.
---
Click here to register for this group: