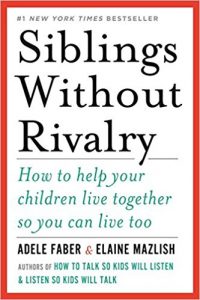 PARENTING WORKSHOP
Based on the book "Siblings Without Rivalry: How to help your children live together so you can live too" by Adele Faber and Elaine Mazlish
facilitated by Carol Timmons, LMFT
---
This workshop guides the way to family peace and tranquillity with humor and compassion for both parents and children.
Illustrated, action-oriented, and easy to understand, it's packed with sensitive yet sensible ways to turn quarreling siblings and frustrated parents into an open, communicative family!
Group Details
Groups are limited to 8 people.
Date & Time: This group meets weekly.
Cost: $100/ 6 Sessions (book & workbook included!)
Place: 2900 Bristol Bldg. J-206 Costa Mesa, 92626 (my office)
Feel FREE to call me with a question or for more information at (714) 751-3370.
---
Click here to register for this group: