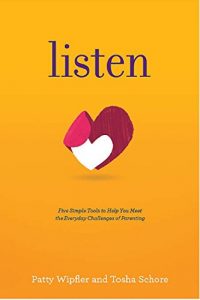 PARENTING WORKSHOP
Based on the book "Listen: Five Simple Tools to Meet Your Everyday Parenting Challenges" by Patty Wipfler and Tosha Schore
facilitated by Carol Timmons, LMFT
---
LISTEN… offers a new and practical understanding of children's emotions and upset moments, sharing effective tools for easing the stress of parenting during the most challenging times with your children.
We want parents to know that they have the power to help their children with a few small changes in how they interact with them. And that their children are far smarter than any one of us would ordinarily guess! Even when their child is in the middle of a tantrum, he's doing the smartest thing possible. And I hope that connecting with one another, they can enhance their own ability to parent with generosity and wisdom.
This Workshop will be FUN and ENCOURAGING as well as a great place to connect with like-minded parents – or go with a friend!
Group Details
Fall Session:
Cost: $140/ 8 Sessions (book available on Amazon)
Place: 2900 Bristol Bldg. J-206 Costa Mesa, CA 92626 (my office)
Feel FREE to call me with a question or for more information at (714) 751-3370.
---
Click here to register for this group: