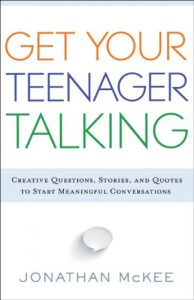 PARENTING WORKSHOP
Based on the book "Get Your Teenager Talking" by Jonathan McKee … an expert on youth culture and author of more than a dozen books…
facilitated by Carol Timmons, LMFT
---
Each week we will explore 30 of the questions and tips for interpreting responses. The springboard questions are well-thought-through from lighthearted to serious!
…"is the perfect tool for connecting with today's teenagers." (Dr. Kevin Leman – author of Have a new Teenager by Friday)
…"is an arsenal… to get our kids talking in more than one-word answers…to stimulate conversations to provoke meaningful dialogue." (Doug Fields- Azusa Pacific University)
…"is how to write for today's parents! …not another lecture…some great ideas (180 or so) for starting conversations with them in a fun and natural way (bigtime success!)" (Wayne Rice -Youth Specialties)
…"is one of the most helpful and practical tools I have ever seen…a most valuable resource for parents!" (Jim Burns – author of Teenology: The Art of Raising Great Teenagers)
The fun will be discussing and learning from other Moms of teens how these conversation starters can be used in YOUR family – with YOUR kids.
YOU ONLY HAVE TEENS WITH YOU A FEW MORE SHORT YEARS! DON'T MISS THIS OPPORTUNITY TO…
LEARN HOW TO ENCOURAGE YOUR KIDS TO THINK DEEPLY and UNDERSTAND WHAT THEY DO THINK ! (It might surprise you…)
Group Details
Date & Time:
Cost: $140 / 7 Sessions – and 1 optional private 30 minute session.
Book not included in cost of workshop: available on Amazon
Place: 2900 Bristol Bldg. J-206 Costa Mesa, 92626 (my office)
Feel FREE to call me with a question or for more information at (714) 751-3370.
---
Click here to register for this group: