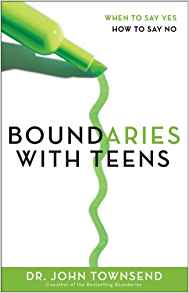 PARENTING WORKSHOP
Based on the book "Boundaries with Teens: When to Say Yes, How to Say No" by John Townsend
facilitated by Carol Timmons, LMFT
---
Parenting teens is not like parenting any other age;
adolescence is a time of testing
– for both parent and child!
With wisdom and empathy, Dr. Townsend shows parents how to:
Deal with disrespectful attitudes and impossible behavior
Set healthy limits and realistic consequences
Be loving and caring while establishing rules
Determine specific strategies to deal with problems great and small
You will learn a deceptively simple skill:
…when to say 'yes' and how to say 'no'…
to implement and enforce healthy loving boundaries with your teen.
Group Details
Groups are limited to 10 participants or less.
Date & Time:
Cost: $140/ 7 Sessions (book available on Amazon)
Place: 2900 Bristol Bldg. J-206 Costa Mesa, 92626 (my office)
Feel FREE to call me with a question or for more information at (714) 751-3370.
---
Click here to register for this group: