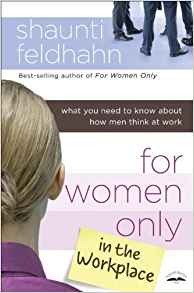 Workshop / Therapy Group based on the book "For Women Only…In the Workplace: What You Need to Know About How Men Think at Work" by Shaunti Feldhahn
presented by Carol Timmons LMFT
---
As a veteran of Wall Street and Capitol Hill, Shaunti Feldhahn knows that even the most experienced Christian businesswoman can inadvertently sabotage her career because she doesn't know how her male supervisors, colleagues, and employees think.
"For Women Only…In The Workplace is the singularly best business book for women I've read in years. This well-researched yet thoroughly readable book is rich with rare insights into how men really see women in the workplace – and how with a few simple adjustments you can even the playing field."

– LOIS P. FRANKEL, PhD, author of Nice Girls, Don't Get the Corner Office, and See Jane Lead
In this Workshop you will discover:
What you need to know about men's hidden insecurity
How men view emotion in the workplace – what they see as emotion
The secrets to being strong and competent – without being viewed as difficult
What "It's not personal, It's just business" actually means to men
….and much more!
ENJOY the safety of a Therapy Group of like-minded Christian women exploring this topic!
Group Details
Date & Time:
Cost: $175/ 10 Sessions (book available on Amazon)
Place: 2900 Bristol Bldg. J-206 Costa Mesa, 92626 (my office)
Feel FREE to call me with a question or for more information at (714) 751-3370.
---
Click here to register for this group: