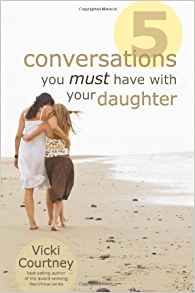 PARENTING WORKSHOP
Based on the book "5 Conversations You MUST Have With Your Daughter " by Vicki Courtney
facilitated by Carol Timmons, LMFT
---
This book helps moms pinpoint and prepare the discussions that should be ongoing in their daughters' formative years.
Several chapters are written for each of the conversations, which
You are more than the sum of your parts.
Don't be in such a hurry to grow up.
Sex is great and worth the wait.
It's OK to dream about your future.
Girls gone wild are a dime a dozen – dare to be different.
This book is linked to online bonus features offering invaluable tips on having these conversations across various stages of development: five and under, six to eleven, and twelve and up.
This Small Group Workshop will be a 7-week session appropriate primarily for parents of girls ages 10 – 16.
Group Details
Date & Time:
Cost: $140/ 7 Sessions (book available on Amazon)
Place: 2900 Bristol Bldg. J-206 Costa Mesa, 92626 (my office)
Feel FREE to call me with a question or for more information at (714) 751-3370.
---
Click here to register for this group: