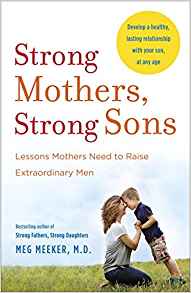 PARENTING WORKSHOP
Based on the book "Strong Mothers, Strong Sons: Lessons Mothers Need to Raise Extraordinary Men" by Meg Meeker, M.D.
Facilitated by Carol Timmons, LMFT
---
"A Survival Manual for Mothers who adore their sons."
…Author, Meg Meeker, M.D.
What this workshop offers:
A Road Map of practical advice to raise extraordinary men
Encouragement to exercise courage and be gutsier with their boys
How Mothers can express love in healthy ways so boys can learn to love women as they mature
For Mothers – The importance of hard work and a well-developed inner life
The unique needs all boys have
Simple components of the mother-son relationship
Group Details
Date & Time: This group meets weekly.
Cost: $145/ 9 Sessions (book available on Amazon)
Place: 2900 Bristol Bldg. J-206 Costa Mesa, 92626 (my office)
Feel FREE to call me with a question or for more information at (714) 751-3370.
---
Click here to register for this group: